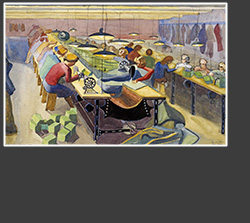 Sim Fine Art aims to introduce fresh collections of intriguing, museum-quality, British pictures as part of carefully researched and curated exhibitions. Over the past ten years, our themed shows have become an established feature of the London art fair scene.
Our annual war art show 'Holding the Line' is the leading event of its kind. This year's catalogue, 'Women at War' is now available (click on title for the latest catalogue).
Our client base includes a wide range of museums as well as educational institutions and corporations. Most of our pictures are sourced privately and we exclusively represent the estates of a number of artists. Our stock is extensive - the material available to view on the website is indicative rather than comprehensive.
'THIS HAPPY BREED'
The Post-War London of R.C. Collins (1945-51)
Feb 21-26 The Gallery, 54 Shepherd Market, Mayfair W1J
For exhibition catalogue please contact simfineart@btinternet.com or view pdf here

For details, please contact Andrew Sim at simfineart@btinternet.com